How to Make Your First Affiliate Sale
How to make your first Affiliate sale is the title of a fabulous ebook by House of Brazen. I purchased it, as the title intrigued me and if I am honest I wanted to see what the competition was up to.
Author: Elise Mcdowell
Rating: 9.5 /10
Cost: $25 now $48 as it has been updated and expanded on since I originally purchased it. It was definitely worth the upgrade as it now has videos and extra bonuses to help you out even more.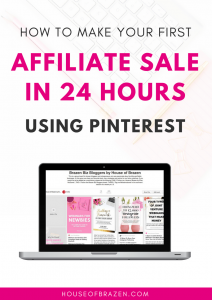 Turns out I was rather pleased with my purchase and I learnt a little trick or two as well. The ebook focuses on using Pinterest to generate your sale or should I say sales because like all things online, once you have a strategy that works, you just rinse and repeat.
The ebook is much more than a simple "do this, then that" kind of ebook that I have unfortunately purchased in the past. It starts you right at the beginning by explaining Affiliate Marketing and then takes you through the steps you need to take to get yourself and your offering seen and clicked on in Pinterest. I actually think you could slightly adapt the strategy for other Social media platforms too.
This ebook is brilliant for new bloggers as it doesn't assume that you know the jargon or the different tools you are going to use to create and promote your awesome Pins. She takes you through the processes in a very simple way and recommends some awesome places to get some ready made free images too. I might just have downloaded a couple myself.
One of the tools she uses was new to me. Boardbooster is an alternative scheduler to the one I use. Whilst I am not ready to give up Tailwind, I have started to use it since reading the ebook and I like it. Whether you buy the ebook or not I suggest you take a look at using it for scheduling your Pinterest pins. You get the first 100 pins free then plans start from $5 a month. No credit card required on sign up.  UPDATE Boardbooster has now stopped trading and the ebook has been updated to reflect this too.
If you would like to take a look at Tailwind too then follow this link and you can get your first month free on me. Tailwind. It is a little more a month at $15, again after your first 100 pins but it has served me well. I intend to run them both concurrently as they do have their own unique features in terms of tribes and group boards.
Anyway back to the task at hand, my review of the ebook, How to make your first Affiliate sale. From start to finish the way she creates her pins and gets them seen on Pinterest is a strategy that works. Yes I tried it and actually had my first sale within 36 hours using her strategy. Not quite 24 hours but it was close. I chose her ebook as the product to promote so I could track my time frame.
Yes she has an Affiliate program to promote her ebook so you can get a total win win with this product. You get to learn and then sell her product as an Affiliate if you so wish. True earn as you learn. What's not to like?
I want to tell you so much more about the ebook but then I would be stealing her work and that is a total no no. So I hope I have given you a flavour of what you will be getting if you decide to purchase it. For me it was worth the $25 for the work she has put in to creating and testing a strategy that works not just for her but for anyone willing to implement it. I have spent an awful lot more on totally inferior products. Shame on me but at least I can point you all in the right and not the wrong direction.
You may have noticed I only gave it a 9.5 / 10. It lost a .5 because it can only be downloaded 3 times and I forgot to save it twice. You have been warned, remember to save it.
If you buy it and don't like it, feel free to come back and shout at me here by leaving your comments below.
With Grace and Gratitude
Karen
Please be aware that this post contains Affiliate links and if you decide to purchase I will be paid a commission but it won't cost you any more.