Instagram Tips For Beginners
If you are serious about building your business and creating your brand then you cannot ignore Instagram. For a start Facebook, the biggest social media platform owns it. It is so closely linked you would be unwise to ignore Instagram completely.
There is however a totally different focus on Instagram. It's all about images. Secretly I feel that this is Facebooks answer to Pinterest but it's totally different and you need a totally different strategy to get results. There are times when I think Instagram is a way of showing everyone what a perfect and exciting life they have (Not) it's also sad to see that those who create perfect images of their perfect lives get the most followers. However, followers who just want to look at your life and wish are not necessarily buyers.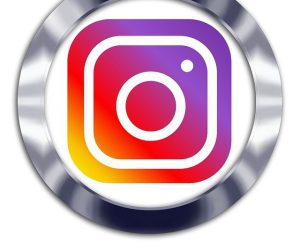 The name of the game is making money but how can you do this on Instagram?
Yes you need followers but you need the right followers, the ones who are interested in how you can help them, rather than those who are just there for a nose. So many of us strive to achieve a huge number of followers and many bloggers can get very discouraged and down heartened by the lack of people following them. It's no secret that people buy followers.
What you didn't know? Well you do now and if you like I will give you some links on where to get them. I will put them at the end of the post for you.
All this will do however is make you look good to others, and yes it may make others give you a follow to see what others are interested in but they won't stay for long if your content is not up to scratch or is not their cup of tea.
Instagram is also known to be the most fickle of the Social Media Platforms. People follow you, so you will follow them back and if you don't they will unfollow you and if you do follow them then they will still unfollow you. Perish the thought that they might be following more people than are following them.
Seriously who has time for all of that ? They'd be better off spending time on their actual business.
Let's start at the beginning so you can get the most from Instagram and grow your business.
Setting up your account.
Having a user name that is the same as your business is ideal. However, this isn't always possible. As I use my account for several websites, I actually chose a personal name. www.instagram.com/karen_ralph_co. Maybe not ideal but what I wanted wasn't available…. so what are you going to do?
Anyway it is what it is. The next step is to write your bio description. Tell people who you are and what you do. There is a real trend for using emojis to split up the content in people's bios. Personally I'm not a fan but if you feel it works for you, do it.
The next thing you will notice is you can only have one link. Most will just use their website but remember when you post to Instagram you can put the link to your new post in the description but it won't become a clickable link. You don't want to be changing your link every time you post because maybe you want to send them to an affiliate link to purchase a product, in one post and send them to a new blog post in another. To get round this I use Linktree. This allows me to put several links into the one link in my bio. If I have an offer I will add it to the top of my list. The Best thing is this is a free service. Obviously there are paid upgrades but I don't use them.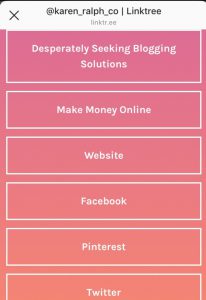 So How Are You Going To Get Results?
The first step is getting followers, to get followers you need some great content. As a starter have a minimum of 9 posts and then make sure you are posting at least once a day. Now the best Instagram feeds (images) are ones that are aesthetically pleasing. e.g similar colours, themes. Go take a look at some successful Instagram accounts and see how their images blend. You could say that they are creating a brand. Creating a brand for any business is important but even more so for Instagram. Many Instagram Influencers ( people who have lots of followers) need to create a brand so other brands will sponsor them to promote their products.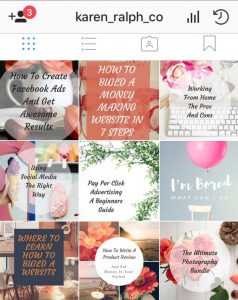 However, we are getting ahead of ourselves here. Let's just start by building our Instagram following and account.
Creating great images for your brand can be done very easily in Canva. It's where I do all of my work and it's free. However you can find images that relate to your own niche from any of the stock free image sites or use your own photos.
Now We Need To Talk About Hashtags.
You can have up to 30 on each post. Choosing them can be a pain, let alone thinking of them. Now I have, right from the beginning used Tailwind for this. They make suggestions for you based on the ones you originally used and I have developed my best list over time, changing a few dependent on the post. The great thing about Tailwind is they colour code the hashtags, so you can choose from the good but not competitive, great and not competitive and competitive ones. Having a mixture works best. They do a training on using them, so you needn't be stuck. My favourite bit is I just click on the ones I want to use and I don't have to type them all. The simple things are what please me most.
Tailwind can be used for Pinterest and Instagram. You can have a free trial of 100 pinterest posts and 30 Instagram posts. If you want to go to a paid plan the basic is $15 a month. If you go for this with your Instagram you can schedule all of your Instagram posts ahead of time and they will post them for you at the best times. Yes they can do that for you too. They work out when your followers are most likely to be online.
Scheduling is a blogger or website owners dream as it saves so much time. If you don't want to go for the paid plan you can still use their app to schedule your posts and get the best times and best hashtags, it just means you have to actually post them manually. This was a total pain for me as most of my readers are in the U.S. and I'm in the U.K. so most of my followers are online while I'm asleep.
If you want to give Tailwind a go use my link here and you will get your free trial and $15 to pay for your first month if you decide to go for a paid plan.
Posting On Instagram
Each post needs an image, your image can just be words but it has to be an image. The size needs to be up to 1080px ( yes this means nothing to me either) personally I use the Instagram template in Canva so I know it's right. You can't post without one. You can upload a picture then crop it to fit and you can add one of their filters too if you wish. Many Instagrammers always use the same filter to give their feed a consistent look. Underneath you can write whatever you like up to 2200 characters ( this includes your hashtags )
Personally I just use a short snappy question relating to the post. I then use about 5 dots going down the page and then put my hashtags in. Without this the hashtags can drown out your message and if you do write the full 2200 characters it won't all show and not many will click to read.
Once you have your account set up and have some posts the next thing to do is to start following people. Ideally people in your niche and people who are your target audience. Start liking and leaving comments on the successful people in your niches posts. Their readers will see your comments and possibly check out your profile and follow you too. After all their customers may be your customers too.
You can find the most popular posts that use your hashtags by putting the hashtag in the search function. This is a great way of finding people to follow and posts to comment on. The more time and effort you put into this the quicker you will build your following.
Final Thoughts And Advice
Building a consistent and engaged audience takes time. Do not be discouraged by the follow, unfollow game. I lost 200 one day….. I have no answer for this. I thought I had put out an inappropriate post .. lol.
Once you get to 10,000 followers then Instagram allows you to do a swipe up which allows you to put a clickable link in your post. I am no where near this but I do get good engagement and visitors to my website and therefore sales. Maybe you came to this post from Instagram? So don't think you need 1000s of followers to get results if you do it properly.
If you are really serious about growing your audience. Say hello to your followers through the message system but don't try selling to them in your first message. I, for one, ignore those messages. Build a relationship of some sort first. If someone regularly likes your posts and you have already said hi, then by all means suggest they look at your offering.
One last thing before I leave you, you can also record a 15 sec video and add it to your story, instead of your feed. This is brilliant for some niches but I have to be honest, it doesn't suit me and I rarely watch any of them. This is not to say that you shouldn't use it because lots of people watch videos rather than read. Take a look at what your competitors are doing and you will get some good ideas on how you could use it to grow your following.
I hope you have found this useful in planning your Instagram takeover bid and given you some ideas on how to make this social media platform work for you.
So here are your links if you want to buy followers but it is not my recommendation.
If you have any questions just leave me a comment below and I will get back to you as soon as I can.
Oh and don't forget to follow me on Instagram….. no follow and unfollow though… lol.
With Grace and Gratitude
Karen