Living Well Spending Less – My New Discovery
Every now and again you come across a shop in unexpected places that sells all the things you love. This happened to me just recently and I just wanted to tell you about it. One because I think you will love it too and secondly because all of the products speak to me as a blogger, website owner and a general human being. Living Well, Spending Less is a discovery and mantra I am excited to share with you.

The products appeal to my sense of becoming more productive and efficient in my working life…. it's hard being a solopreneur sometimes.
If you feel the fatigue and lack of direction with either your online business or even just life itself then you may have just found what you are looking for.
The other products I found in this shop appeal to my sense of being able to build people's confidence in whatever they are trying to achieve. Take a look at my posts in the Confidence Building Category.
Yes I know my site is called Building Websites for Dummies but I know none of you are actual dummies and neither am I. It's just that I like to keep things as simple as I can. I have been blinded by science on my journey to building my websites too many times. I also know from experience that building any business online or otherwise can be thwarted by self doubt and lack of confidence. With that in mind I often go off topic, if you like, just to give you all a dose of Motivation and Confidence.
Okay Karen, Where's the Shop And What Have They Got?
Well the shop is in the title of this post Living Well Spending Less which is actually a Blog and title of a New York bestseller run and written by Ruth Soukup an absolute inspiration in the blogging community. Now I was surprised to find the shop as not many blogs have one but over the years Ruth has built up her brand and now has a shop with items she has created herself and has used extensively. Not only are the products useful but they are fun and inspirational too.
Living Well, Spending Less – The Book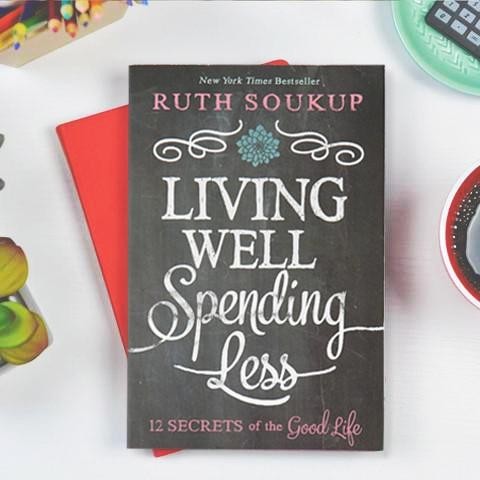 A New York bestseller for a reason. So many of us are struggling in our day to day lives that sometimes even thinking about following our dreams is exhausting. We imagine that everyone else has it together. You know, perfect relationship, clean house, dream job, perfect kids. Well if they have read Ruth's book maybe they almost do. Living Well, Spending Less gives you the secrets to living the good life and allowing you to focus on the things that matter most!
This book was written to offer lots of hope and encouragement to everyone who currently feels overwhelmed or stressed with a life and budget that feels way out of control. It is a practical guide where Ruth offers both advice and stories of her own mistakes and shortcomings and how she overcame them. It is for those of us who often wish we could pull ourselves together but don't really know how.
"I couldn't stop reading. I tried to, only because I had other things I needed to do, but I couldn't. Rarely is there a book so adept at weaving personal story with practical tips. I found myself craving this good life that Ruth writes of–a life that is possible for anyone who reads this book."
–EMILY T. WIERENGA, author of the bestselling memoir Atlas Girl
The Living Well Planner
The Living Well Planner is her other main product as it echoes everything Ruth is about and will make you more organised and productive not only in your business life but in your personal life too.
This is so much more than just a pretty calendar. It is an all-in-one resource which is designed to help you organise your whole life, not just your work schedule. Using it will help you take back your time and allow you to focus on your long-term goals while still achieving the daily, weekly, and monthly responsibilities of running your life. Ruthdescribes the Living Well Planner as the sanity saver you've been waiting for.
If you are a regular reader of mine then you will know that I have been going through a total re organisation of my schedules and workload. Well when I say re organisation I really mean organisation!
Whilst this is only newly in my hands I have faith that if I use it properly It will help me to become more purposeful with my time by eliminating overwhelm and getting all of those details out of my head and into one place.
If you have been wishing for a simple resource that offers a way of taking your life back from the chaos of a busy life, the Living Well Planner is definitely the tool you've been waiting for. It is an all in one planner that allows you to be purposeful with your time, money, and resources, and to focus on your long-term goals while still managing your day-to-day responsibilities.
Do it Scared
This has been Ruth's motto since the beginning of her online career. Whilst she may know a whole heap more than you or I do now, that wasn't always the way. She started where we all started. With Zero clues. It can be quite intimidating and scary to put ourselves out there online and to try new things. Doing it Scared is what we all must do to achieve our online goals.
Ruth is now offering a range of products with the Do it Scared motto on it and I want them all and will definitely be purchasing some items as gifts for the people in my life. They are not working online but the truth is no matter what we are doing in our lives we have to Do it Scared sometimes. Hopefully they will be inspired by the gifts.
The mug should be on all of our desks. Not only does it look good but is a very subtle reminder to us every time we are working on that next step in our businesses. I quite like the Glass version too.
I also love the T-shirts with the motto up front and proud on them.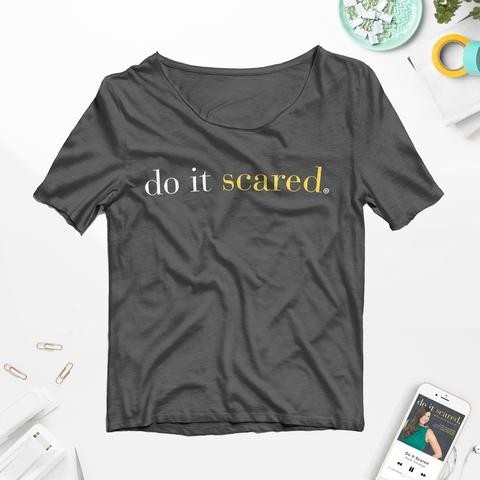 I am not going to go through all of her products here, I'll let you do the browsing and shopping for yourself. After all that is where all the fun is at.
Obviously I don't yet own all of her products but if the book and the Planner are anything to go by then her other helpful products are sure to please too. So make sure you at least pay the shop a visit.
I hope you have found this post useful and informative and that you will get as much from Ruth's products as many others have done. Let me know in the comments section below if you have tried the products or if you have any questions.
Also, please be a sport and share this post on your favourite Social Media Platform if you have enjoyed it.
With Grace and Gratitude
Karen
Please be aware that this post does contain affiliate links which means that if you click on one and then go on to make a purchase, I will make a commission but it won't cost you any more.
How I Make A Living Online?
As I have said I make my living online, through affiliate marketing and I learnt everything I needed to know about building such a business through Wealthy Affiliate.
Wealthy Affiliate is a comprehensive training platform for anyone wanting to either start an online business or build upon an existing one.
If you want to check it out for free with no credit card required click on the link below.