Shopify – Get Your Own Online Store Even If You Dont Have A Product
After recently writing posts about turning your hobby into a business and learning affiliate marketing, I decided to turn my mind to Shopify and how you could get your own online store, even if you don't have a product of your own to sell.
Shopify is a trading platform which from my research gives you the opportunity to have an online store, just as good as the usual shops we buy from online. It certainly leaves Ebay and Etsy, way behind in the online shopping world. It works equally well for those of you have a product to sell and for those of you who don't.
Shopify Review
Overall Ranking: 95/100
Price: $9/ month for Lite, $29/ month for Basic, $79/ month for Pro, $179/ month for unlimited, plus transaction fees added from 0.5% – 2% depending on package.
What is Shopify?
Shopify was launched in 2006 when the owners built a tool to sell their snowboards directly to their customers online. It grew from humble beginnings but it was obvious that others could make use of their tool and today it has over 600,000 users, over a 1,000.000 Customers and has generated over 55 billion in sales.
Their platform manages every aspect of an online sales business for you. Easy website builder, inventory, sales channels, payments and shipping.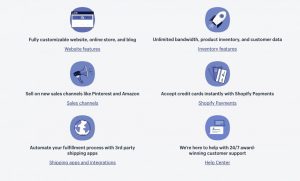 Who is Shopify For?
Shopify is a simple and practical, all in one solution for anyone that is wanting to sell products or services online. From total newbies to seasoned sellers.
My Experience
In a previous life I owned a Vintage Shop and still sell stock I have left over online but on eBay and I tried Etsy too but I didn't get on with that one. So my first thought was to create a vintage shop on Shopify. First of all I got to upload an image and name my site and create a tag line ( telling people what you do ) I quite liked it and it was very simple. You do get access to 1000 s of photos if you don't have one for your branding. You can also choose to add your own domain name rather than the one Shopify assigns to you.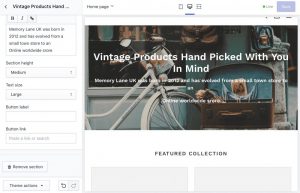 The next step is uploading your products. Title, description, image and price. You also get the option of creating categories and who the vendor is. In this case it is me but if you choose to sell other people's products and use drop shipping ( more about this later ) then it would be the supplier you use.
You get options for shipping, this can get a bit more complicated if you choose to ship overseas. You can also add variants e.g a t shirt in different sizes.
Your final options are to add an SEO listing preview. This means that the search engines will find your product.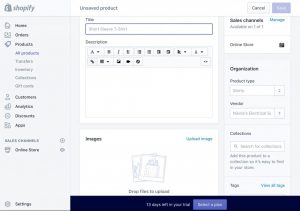 So far so good but at this point I decided that I was not sure about selling my vintage online, despite it being a free trial the product would immediately go online. Knowing my luck it would sell, giving me a job I don't have time for right now ( these posts don't write themselves you know! ) Taking photos and making a listing seemed a bit pointless as one of my aims was to show you how you can sell even if you don't have a product.
So off I went to see what my options were. They have tons of apps some are free some are paid. Some are useful for expanding your store with your own products or for finding products to sell or anything else you can think of. If you are an app designer you can upload your own to the platform.
I'm beginning to see that the possibilities with this platform is massive. But I am running away with myself here. I chose Oberlo a free app for finding products first. In the screenshot below you can see that it seems it can do everything for me. Installing was easy peasy and they provide several training videos to help me on my way.
The choice of products are vast here and come from ali express. The price you pay is shown and you put the mark up you want. There are suggestions for you and there is a video to help you. When it sells they ship it for you.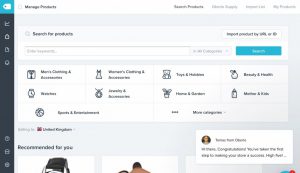 Now at this point I realise that the possibilities are endless and I need to make some decisions on which way forward my Shopify store is going to go. I've only checked out one app. I'm only on day one of my free trial so if you don't see a post from me in a while, you know why
What I do know is that a Shopify store is something I would definitely recommend, even if you only give it a go for the free 14 days. I know that you can build a successful business on this platform if you follow their advice and training.
Shopify Pros and Cons
Pros
14 Day Free Trial

The customer support is excellent. You can reach them 24/7 via telephone, online chat and email.

Shopify is flexible and has lots of apps to suit your own personal needs and add the functionality you need for your online store

Lots of themes to choose from so your store can look like you want it too.

Integrates with over 70 external payment gateways
Mobile commerce ready

You can use and purchase your own domain name directly through Shopify

You can work with a Shopify expert directly to fully customize your online store

Full website builder, you can host your entire website on Shopify

Full blogging platform which helps you to promote your wares

Secure shopping cart

Complete store management including customer profiles, customer accounts, customer groups, fulfillment centres, order fulfillment, drop shipping, refunds, email templates and the ability to manage your online store on the go with Shopify Mobile.

Search Engine Optimized

Sitemap automatically generated

Offers gift cards

Social media integrated

Product reviews

Email marketing (Mailchimp)

Sell on Facebook, Pinterest, Instagram and more

Full Product Management: inventory, product variations, product organization, multiple images, SEO product tags, digital products, import/export, unlimited products

Web hosting: unlimited bandwidth, daily backups, email forwarding, Level-1 PCI compliant, SSL certificate, instant upgrades, 99.9% up-time and 24/7 monitoring

Analytics: actionable dashboard, product reports, export reports, Google Analytics, traffic/ referral reports

Ecommerce University which will teach you everything you need to know about selling online (eBooks, webinars, video series and more)
If some of the above worries you or doesn't make any sense, don't worry, the language of the online world will become second nature and the training will help you to understand it all. It's a lot simpler than it sounds. I've added the complicated sounding stuff for those who have already entered the online world and know how important some of these factors are in achieving success.
Cons
If you decide to leave Shopify you will only get is an exported csv file of your product information. This makes moving over to another platform or your own self hosted store a hassle.

It will take some time to learn how to use Shopify, if you are a beginner. Sometimes the technical jargon can be confusing but you will get used to it.
Be aware of add on fees (some of the themes and applications and external payment gateways)have an additional cost) These can add up if you are not careful.
How much does Shopify Cost?
The price varies per package, from $9 per month for the Lite Package to $179 per month for the Unlimited Package. $40 is added for a Retail Package and there are also transaction fees ranging from 0.5% to 2% for transactions depending on which package you take.
Shopify is more costly on a month to month basis than you would pay for your own self-hosted website store, however adding in all the applications included with Shopify will cost you a whole lot more and will be more complicated to achieve. Definitely not an option for a beginner.
In Conclusion
I highly recommend Shopify especially for anyone that is new to working online. The all-in-one solution makes it very simple for you. They will take care of everything you need to work online, leaving you to focus on selling your products/ services.
You will need to spend a bit of time learning how to use the Shopify platform and setting everything up. Once you have put that work in, it will be well worth the effort and you could have a very successful business on your hands. Okay there are a few cons associated with this platform, but the pros and the features they offer far outweigh the minor negatives which are not really negatives at all, just things to be aware of.
If you have had any experience with Shopify or have any questions please feel free to leave me a comment below and I will get back to you as soon as I can.
If you have decided that Affiliate Marketing might be a better choice for you then take a look at my No 1 recommendation by clicking here.
With Grace and Gratitude
Karen
Please be aware that this post does contain affiliate links. If you click on one and make a purchase, I will earn a small commission but it won't cost you anymore.