Social media – Love it or Hate It You Have To Use It
Social media is something we either love or hate but unfortunately we cannot do without it, if we want to build an online presence where we attract thousands of visitors to our site.
The big five are Facebook, Twitter, Instagram, Pinterest and Google +. YouTube is fast becoming very popular, but there is also and tumblr, Bloglovin and lots more.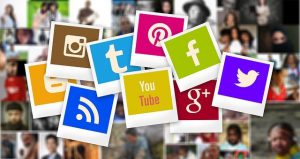 So how do we use them effectively?
I will start with Facebook as it is the one we all know better than most.
You would be best to set up a page that is exclusively for your website. Invite your friends to like it. It is here that you will put your posts rather than on your personal profile. What you can do on your personal profile is add your website as a work place. Let your friends know this isn't just a hobby but a bona fide business.
If you are really serious then you should register your page as a business. This gives you the opportunity to create ads and more with the addition of insights to how your page is performing. Too many people just boost a post ( Facebook is great at promoting you to do this) Getting The Best Results for your money requires a proper ad. Take a look at my Facebook Ads Post to see how to do it well.
You should ideally have the same name as your page on facebook. Make sure you link it to your domain name. Follow people. Get involved in conversations and you will see how your following grows. Maybe not by many to start with but once you build momentum it will grow. Twitter have also just introduced ads. Well I guess this was bound to happen. I have not yet used them but will write a post on my opinion when I have.
It is much the same with Instagram.
Follow people and post often. People love pictures. Make sure your pictures look as though they belong to you. A great start to branding. Put out your posts and send people to your website on your profile. You can't actually put links on Instagram unless you have over 10,000 followers. What a bummer but we all have to start somewhere. Just keep posting every day. I use a tool call Tailwind which lets me schedule my posts ahead of time and this means I can see what my box of 9 looks like. It allows me to see that the content blends and once I have scheduled them they just post it for me.
I have recently found a tool to get round the one link rule and it's free. It is called Linktree and I just have one link on my profile which I then link whatever I like to it. If I have a specific promotion, I put it at the top and leave the links to my website and other social media accounts there permanently. It is free with some paid options that I don't use.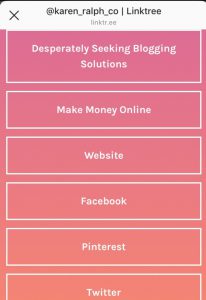 I also use Tailwind for Pinterest.
I just schedule them in one block and they post them for me, just like Instagram Tailwind also tells me the best time to post for both Pinterest and Instagram. They know when my followers are most likely to be online. Clever huh.
Bloggers need to save time somewhere and Tailwinds scheduling works great for me. You can get a free trial of 100 pinterest pins and the 30 Instagram posts. If you join through my link here you can also get a $15 credit to pay for your first month after your free trials. You can also join tribes on Pinterest which allows you to get your pins out to other people's accounts.
If you are not so familiar with the best way to use Pinterest, take a look at my posts Using Pinterest and Creating Rich Pins.
This may be one you don't think about but because we want Google to rank us it makes sense to let Google know we exist. You can put your website in to let google know who you are and you can join communities to share your posts in. I personally have learnt a great deal from reading other people posts on there.
Now I'll admit to this one being off my radar but it is becoming one of the fastest growing places for bloggers and website owners to promote themselves. I know I need to get it into my schedule but we are not all perfect and there's only so much time.
If you are serious about getting your website seen you need to use all of these social media sites on a regular basis. Even if you don't have a post to put out there you can still engage in lots of different ways. Get yourself known. Create interesting boards on Pinterest. They don't actually have to relate to your niche or website. People buy people first and products and ideas second. So sell yourself. Don't be scared to comment or like a post someone else has put out. It will earn you lots of brownie points for sure.
I personally have a daily schedule to make sure I have interaction on each social site. I give each of them 15 minutes a day split into two sections. So that's about an hour and half of my day. I have spent more than that on Facebook alone with no intention whatsoever. I'm sure we have sill been guilty of that.
So do yourself a favour and sign up to these social media sites. If needs be set up a different one for your website if you don't want to mix your personal life with your work life.
Set yourself a schedule of using them professionally and stick to it. Each day will add up to a lot of social interaction and you will be building your brand and online presence.
Another thing I will suggest is finding social sites not on here. Quora is a great one to get involved with if you like to get in to discussions. I know people who have had great results just by letting people know who you are on this site, tumbler is another great site that people have had great results from.
You can probably think of ones more suited to your own niche, do your research and try out different ones and check back on your results. You should always tell people what you are doing or else why are we writing our blog posts? You want readers, right.
Thank you for taking the time to read my post. You will be seeing it on a social site near you soon. Or maybe that's what bought you here in the first place. If you are not already following me please do
Please feel free to tell me about your success stories and about any new social sites you have found by leaving a comment below.
With Grace and Gratitude
Karen